Training and Behavior Modification Consultations
Basic manners training
Separation Anxiety protocols
Customized training plans for behavioral issues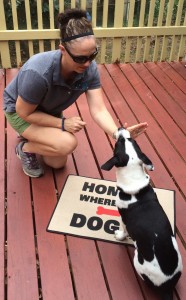 One of the cornerstones to good animal care is training (nutrition, veterinary care, environment, and training/enrichment). Thus, even a well behaved animal can benefit from the extra attention and structure that training can provide.
Let Positive Animal Wellness help you to "get started on the right paw." Discover how to better communicate with your new furry or feathered family member while building upon your relationship and training house manners and skills for a well-behaved companion animal.
People who adopt an animal from a shelter or rescue qualify for our "GET STARTED ON THE RIGHT PAW" discount. Get started with PAW within thirty days of your adoption and receive $10 off of the class, private lesson, behavioral modification session, or individual session of your choice.
Contact us today to be on your way to a more peaceful, fun relationship with your animals!