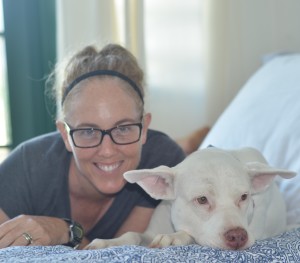 Terrie Hayward is dedicated to helping her clients, animal and human. She continually pursues her already long list of educational achievements, is considered an industry leader in deaf dog and separation anxiety training, and has been a professional dog trainer since 2002.
Her clients love her empathetic and compassionate support, unbelievably down-to-earth style, and are always amazed at their dog's life-changing improvement. With Terrie on your team, you'll have a creative and tenacious partner who'll propel your training. She'll prop you up when you hit a behavioral speed bump. Terrie has traveled to remote corners of the globe, and thrived while living in challenging locations like the jungles of Papua New Guinea.
Let Terrie use her inspired resourcefulness to help you and your dog enjoy life together. She provides a positive approach with scientifically-sound training techniques and a never-ending commitment to your training success.
Training and Behavior Credentials
KPA: Karen Pryor Academy, Faculty Member
CSAT: Certified Separation Anxiety Trainer, Malena DeMartini
CPDT-KA: Certified Professional Dog Trainer-Knowledge Assessed
IAABC: International Association of Animal Behavior Consultants, Associate Certified Member
KPA-CTP: Karen Pryor Academy Certified Training Partner
M.Ed.: Master's degree in Education
PPG: Pet Professional Guild, Full Professional Member
TAG: Teaching with Acoustical Guidance, Certified Primary Teacher
Published Author
Terrie Hayward is the author of A Deaf Dog Joins the Family, Training, Education, and Communication for a Smooth Transition.
Coming soon: Grooming Without Stress! Safer, Quicker, Happier: Setting the 21st Century Grooming Table up for Success by Employing Low-Stress Handling Techniques and Your 10-MINUTE A DAY DOG: A Training Guide to Using Your Time Wisely to Communicate Effectively for a Well-Behaved Dog.
Endless dedication to education
A highly requested speaker herself, Terrie continuously cultivates her craft. When she's not training deaf dogs, coaching separation anxiety clients, clicker training a myriad of other species, or enjoying her own two dogs in Rincon, Puerto Rico—she's traveling the world to attend workshops and seminars to further her expertise in animal behavior and training.
Dog Cognition & Emotion, Duke University
Chicken Camp-Targeting and Discrimination, Legacy Canine Behavior and Training
Professional Animal Training Seminar/Graduate level ABA course, Ken Ramirez, Shedd Aquarium
Living and Learning with Animals for Professionals, ABA certificate course, Behavior Works
Contemporary Animal Training and Management, professional certification workshop, Natural Encounters, Inc.
Low-Stress Handling, Dr. Sophia Yin Certificate Course
Sanctuary Workshop, Best Friends Animal Society
LLC's Canine Behavior Evaluation Workshop, Animal Alliance
Advanced Professional Trainer Workshop, Ken McCort, Wolf Park
Fear Free Certification Program, Vetfolio
CameliDynamics Science of Behavior course, Dr. Susan Friedman & Marty McGee Bennett
"Wonderful teacher with a lot of patience for dogs and owners"
My rescue dog Hunter had a serious problem chasing the cats. Three days in I was convinced that he would not be able to stay. Hunter today is a different dog! He does not chase the cats, I often find them sleeping together or just playing. He is part of our family and such transformation from the dog I brought home that day. Terrie is a wonderful teacher and has a lot of patience training both the dogs and their owners.
-Sue and critters