Tiny tweaks can make a world of difference between you and your deaf dog.
Struggling to get your deaf dog's attention? Emerge from the labyrinth of miscommunication. Let me simplify the hand signals.
Lost in the jungle of contradictory information? As a deaf dog expert, I'll condense the conversation, so it clicks for you and your dog.
Can't seem to get your deaf puppy to stop nipping your pant legs? Nix the nay and no. I'll unclutter the course to better behavior by removing negative noise.
Worry that you won't be able to train your deaf dog to walk nicely on a leash? With every step together, we'll uncover your deaf dog's training zeal.
My Exclusive Deaf Dog Program is perfect for you. Let me show you the simple route to training success.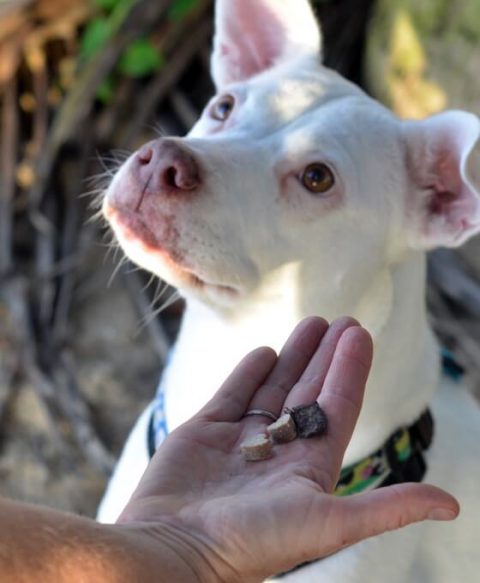 Program Details
An effective "good dog"
Attention, using only positive methods
The ease of incompatible behaviors – "NO!" creates more chaos
Visual cues for behaviors you need every day, like "sit," "down," calm attention, settling when asked, waiting patiently at doorways, and custom requests
Support from a professional trainer who also shares her home with a deaf dog
Available worldwide via Skype or Zoom
Your Deaf Dog Training and Behavior Expert
Terrie Hayward, M.Ed., KPA-CTP, CPDT-KA, CSAT is the author of A Deaf Dog Joins the Family. With science-based training techniques and a mutual love for teaching humans and dogs, Terrie will make communicating with your deaf dog make sense. Terrie uses intuition and ingenuity she learned from living in the jungle to remove training roadblocks between you and your deaf dog. You'll wonder how you ever struggled to communicate with your deaf dog. Teach your deaf dog or puppy to come in from the backyard, look at you from across the room, and walk politely on a leash with Terrie—she lives with a deaf dog too.
We were overwhelmed with our new anxious/OCD deaf dog, and had a hard time finding someone locally who we felt that we could trust to work with her (and us) with kindness, compassion, and expertise. Terrie has been incredibly responsive and patient with the many many questions we have sent her way and has offered valuable guidance and feedback. Bianca is improving daily, and we have Terrie to thank!